After applying above steps on your SQL Server you can see the attached database on databases node.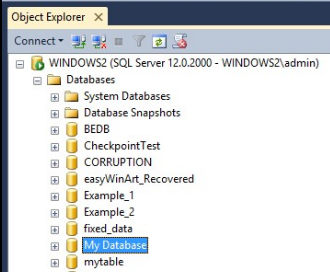 This simple procedure will be helpful in extracting data from .mdf file. In order to attach .mdf file in SQL Server database one can also try T-SQL script.
2. Attach .mdf file using SQL Server Management Studio
Another method that is used to attach .mdf file in SQL Server is by using T-SQL script.
CREATE DATABASE Mydatbase ON
(FILENAME = N'C:\Program Files\Microsoft SQL Server\MSSQL12.MSSQLSERVER\MSSQL\DATA\Mydatbase.mdf')
FOR ATTACH_REBUILD_LOG
GO
The above command will attach the database in SQL Server even if the .ldf file is missing to the associated .mdf file. The ATTACH_REBUILD_LOG will create a new transaction log file and create a new database.